Here are some of the first buttons that I sold to my wifes local knitting shop.

I can do custom pieces and I am taking pre orders, we (meaning my wife) is working on the website and we are hoping to have that happening very soon, I need to build stock for potential internet sales.

These buttons measure 1 to 1.25 inches and I really like the effect the implosions have on the larger scale buttons. I can also make these as pendants for necklaces and other kinds of jewelry.

More to come as I come up with more designs and ideas for product.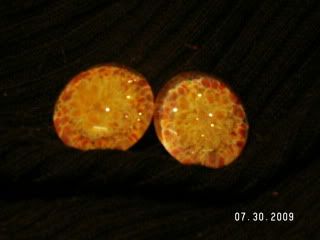 This is my FAVORITE photos of this batch, I love how the Double Amber Purple just Glows